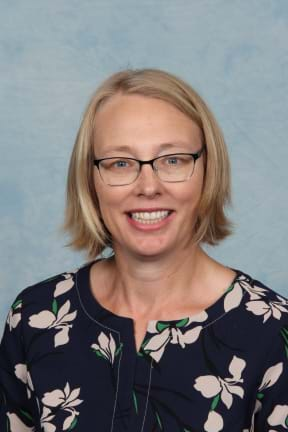 kellie cumming
Kellie has been at St.John's for past eight years. During her time at the school she has worked predominantly in the Year 3-6 learning areas. Earlier on she was heavily involved in the PE program and taught Yr 3-6 sport. For the past five years Kellie has also been the Mathematics Leader where she is passionate about supporting students and teachers in the growth and development of Mathematics throughout the whole school. She also runs and supports small sessions of extensions and interventions programs. Kellie is currently part of the Resolve project through the Australian Academy of Science in which she is trialing rich mathematical tasks. Kellie is a hard working and inspirational teacher who loves watching students learn and progress.
Prior to working at St John's, Kellie spent five years teaching at international schools in Borneo and Jakarta, Indonesia, predominantly in the junior grades. She has fond memories of teaching students from a range of countries and cultural backgrounds, including EAL (English as an Additional Language) students.
In her spare time, Kellie may be spotted spending time with her husband and sons at sporting events, whether it is following Mitcham at Walker Park or watching footy or cricket at the MCG. Her holidays are quite often spent back home on her parents cattle farm in the Western District of Victoria, where she enjoys the outdoors.
Tom started teaching in 2009. He joined the St John's team in 2016 after teaching in Ballarat for a number of years.
As well as being a senior school teacher Tom also teaches Physical Education to Prep to Year 6. He loves how this gives him the opportunity to get to know the whole school community. As a senior classroom teacher he has appreciated the opportunities to be involved in extracurricular activities such as camp, school sports and preparing students for secondary school.
In his time away from school Tom likes to play basketball and casual golf. He also enjoys going along to the AFL to watch his team Carlton play.
Kim has been a staff member at St. John's for five years. She began working at our school in 2012, in the year 4 learning space. This year, Kim works in the 3/4 learning space and runs small maths groups, reads with children and helps out in the three classrooms. In addition, Kim organises and supports Parent Support Group Meetings.
Kim has undertaken a number of professional learning opportunities. She has a certificate 4 in Early Childhood and has participated in learning on autism through Sue Larkey and dealing with behaviour. Kim has also taken part in a number of webinars on dealing with anxiety and utilising ICT in the classroom.
Kim loves to quilt and enjoys going on quilting days with her friends. She is a traveller and has been to Thailand, Bali, America, Europe, New Zealand and Hong Kong.
What Kim loves most about her job is seeing how her support makes a real difference to the students she works with. Seeing the students achieve success and have that light bulb moment brings a smile to her each and every day.
Ange Crowe
Ange Crowe taught Prep for 5 years. Throughout this time she understood the importance of oral language in the junior years and developed a passion for teaching English as a second language. To support her with this passion, she completed several courses at Blackburn English Language school. Through her accreditations she specialised in English as a Second Language for 8 years whilst working part time. Ange came to St. John's in 2012 to assist with Prep/1/2s oral language development. She then taught Grade 2 the following year and in 2014 Ange became our Literacy Leader.
During her time in this leadership role she has completed the More Support for Students with Disabilities (MSSD) course in 2014, completed a Masters of Education (Educational Intervention) in 2015 at Melbourne University and completed a Reading Recovery course in 2016. Ange now continues to work with reading recovery and EAL (English as an Additional Language) students on a daily basis. She also provides support to classroom teachers in 1/2 and oral language support for 5/6 students. Ange facilitates a number of Literacy Intervention groups for all year levels.
Ange enjoys working with small groups and students from Prep-6. She has a passion for intervention and loves having the opportunity to make a real difference and witness accelerated growth each day! Ange believes she is lucky to work with all classroom teachers and leaders in the school to provide a collaborative approach to improving student outcomes at St John's.
Naomi has been a staff member at St. John's for three years. She began her teaching career in year 1/2 but has since embraced the opportunity to teach Prep. She has loved seeing how much the Preps have grown in just 72 days and the amazing progress they have made. Naomi has played the violin since she was in Kinder and offers her time to showcase her musical abilities around the school. She LOVES to travel and has been to 20 countries! Naomi has a passion for writing and has loved learning more about student wellbeing over the last few years. She looks forward to developing her leadership as a team member in the area of Student Wellbeing and enhancing her knowledge of Social and Emotional Learning.
Bianca began teaching at St. John's in 2014. In her first two years she worked as a Prep teacher and has since made the transition to 1/2. She has a passion for Google, ICT and Digital Technologies and enjoys sharing her learning with her colleagues. Bianca has numerous roles including eLearning Leader, eSmart Co-rdinator and Learning and Teaching Leader.
She began Code Club last year working alongside the Grade 6 ICT leaders to provide rich and exciting learning experiences for students. Her most recent achievement has been becoming a Google Certified Level 1 and 2 Educator. Her expertise in the Google field has led to significant changes in the school, including all staff and students being confident and capable users of Google tools in the classroom. With Bianca's love of technology, not only has our staff knowledge grown but out IT devices have grown among the school with each learning area having access to Chromebooks, laptops, desktops and iPads. Her goal in the eLearning position is for St. John's to be renowned by the community as a 'tech-savvy' school.